Build your capacity to teach the health skills outlined in the National Health Education Standards and support student social emotional learning, mental health, and health literacy!
Cairn Guidance and RMC Health are excited to announce our Deep Dive into the National Health Education Standards Virtual Training Series. The intended audience includes K-12 heath teachers, curriculum specialists, instructional coaches, school counselors and school nurses teaching health education. This series is being offered virtually. Registration, with objectives is here.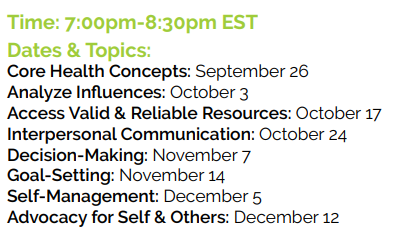 See registration form for full series description and training objectives. Please feel free to email Jess Lawrence (jess@cairnguidance.com) and/or Raisa Negron (raisan@rmc.org) with any questions about this opportunity.