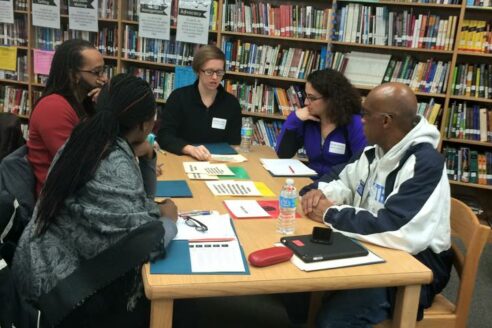 Consulting & Guidance
We have expertise in adult learning and training, health education, school health and public health. We provide consulting time to clients to help them reach their goals and vision.
Consulting that guides your organization to the next step.
Policy
We support districts and state agencies to write, revise and implement health policy. Using a national lens, we develop and propose courses of action to meet priorities that inform programming at the local levels.
Content Standards
We provide consulting support for development of physical and health education content standards. We have supported state Departments of Education and school districts to develop their scope and sequences, including state Health Education Frameworks.
Curricula Development
Our team has extensive expertise in the development of curricula, for adults and K-12 students. Using the backwards design framework, we ensure the lessons, units and assessments are aligned with the intended outcomes related to increase of knowledge and proficiency of skills.
Evaluation Services
We provide process and program evaluation to state agencies and programs looking to gauge effectiveness, efficiency and capture outcomes. We help guide clients to tell a story or write an evaluation report for a funder.
Resource Development
We have developed many resources for the fields of public health, school health and health education. These include reports, examples of effective program and policy implementation or white papers.
Working with Cairn Guidance has been a breath of fresh air. They are population-centered, as in they are genuinely committed to hearing what the provider/agency needs, centering youth, educators/teachers, and then take that information to form remarkably collaborative products that exceed the original vision for the scope of work. I am consistently impressed, and highly recommend their team and their work.

Vanessa Peña-La Torre, Portland Public Schools
Partnering with Cairn Guidance for our state Health Education Framework project was the best decision! Jess and team brought valuable knowledge and experience to the project. Plus they are a delight to work with – super organized, thoughtful, and always responsive.


Karin Wetherill, Rhode Island Healthy Schools Coalition
Jessica Lawrence and her team at Cairn Guidance are truly incredible to work with. Not only do they offer clients an unparalleled understanding of health education and the national and state curriculum standards, but they understand what those guidelines mean for schools and classroom teachers and work with clients to bring subject matter to life in fun and engaging ways. They work with clients as true partners and function as an extension of their team.

Lisa H. Falconer Senior Director, IQ Solutions